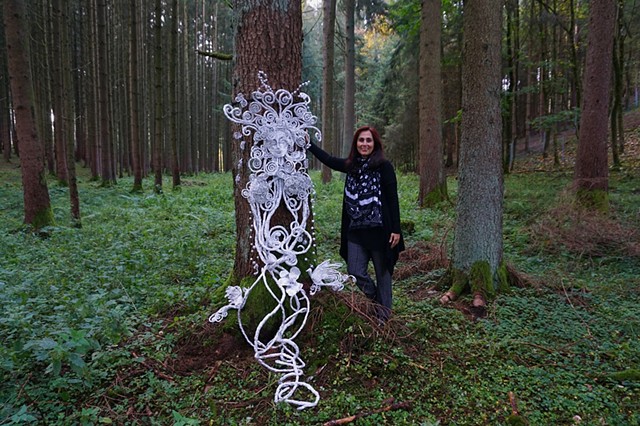 Poets and their words inspire me. Pakistan's celebrated feminist poets Kishwar Naheed and Fahmida Riaz inspire my work. I love Maya Angelou too. Hermann Hesse's 'Trees: Reflections and Poems' touches my heart. For me trees have a feminine spirit, they represent the life giving and nurturing attributes of mothers. Whenever I visit a new place I search for the ancient trees. I have hugged old trees in 25 countries. In this world, where as a Pakistani the borders are getting thicker and higher, trees are symbols of tolerance and coexistence for me. Wherever I am, a tree never asks me for my passport or my religion and race, but blesses me with its blissful shade on a hot summer day.
My work is varied and I use a certain medium that I love using at a particular time for a specific project. At a very young age I worked as an editorial cartoonist. I find inspiration in the ancient slate cemeteries of my parents hometown in Sirikot, Hazara in the North Western part of Pakistan, but I love digital technology too. I enjoy painting and animating my paintings to tell stories.
Traditional handicrafts from Pakistan like chundri (tie and dye scarves) and rilli ( hand stitched appliqué quilts) inspire me too. Lately, due to traveling between Pakistan and Germany my favorite medium is fabric. My passion for trees and concerns about climate change, have inspired me to use recycled material such as aluminum foil, newspapers , tin cans and wheels caps etc. 
Moved by aspects of Pakistan's natural and cultural heritage which are fast disappearing, I have painted or carved without a view to the market. The time that needs to be spent on negotiations I have spent working on art projects with children, and for the conservation of traditional skills and natural beauty. These activities I take as seriously as my creative work.
I love art, even more now that I see it vanishing in much of Pakistan–both the art of galleries in some parts of Pakistan and the splendid art of nature. For me art is not only found in galleries and museums, but also in nature. I am privileged to have been the moving force behind saving old and historical trees as 'Natural monuments' in Islamabad.
I love sharing my art with children, whether it is through organising art workshops or by illustrating and writing picture books and giving them free of cost to children in 'difficult circumstances', through my charity Funkor Childart Center. 'Amai the bird of light', is a cartoon character I have developed for children. Animation is a wonderful medium that I use for my work with children as well as satire on politics.